Album information
| | |
| --- | --- |
| Title | Monoceros |
| Musician | Evan Parker |
| Release Year | 1978 |
| Label | Incus Records |
Introduction
Monoceros is Greek (Μονόκερως) for unicorn, and like it's namesake, the album stands as a legendary mythical creature.
Recorded April 30, 1978 at Wyastone Leys, Monmouth. According to Wikipedia it was done directly to disk using the direct-cut technique, with assistance from Numar Lubin, Gerald Reynolds and Michael Reynolds.
This means that the recording was made from the microphone directly to vinyl master eliminating the noise. Therefore it was not possible to make any edits; it had to be done right on a single take.
DISCLAIMER
I do not wish to review this album, i don't really like reviews, as they are biased. I mainly wish to tell the story of how i got to know and enjoy Monoceros.
Monoceros
I came across Evan Parker's playing in jazz groups (Brötzmann's Machine Gun from 1968 for example), and although i enjoyed his playing it did not strike me to be one i would favourite. Another thing i did not enjoy was solo recordings from jazz or improv players from a jazz background, i much prefer them to be at least a duo.
I heard Evan Parker's solo work for the first time in a live performance in Jardins Efémeros (July 14th, 2017 at 00h30), where he played in the cloister of the Viseu's 12th century cathedral surrounded by blue lights and a massive sculpture, Tília I by João Pedro Loureiro & Rafael Gomes.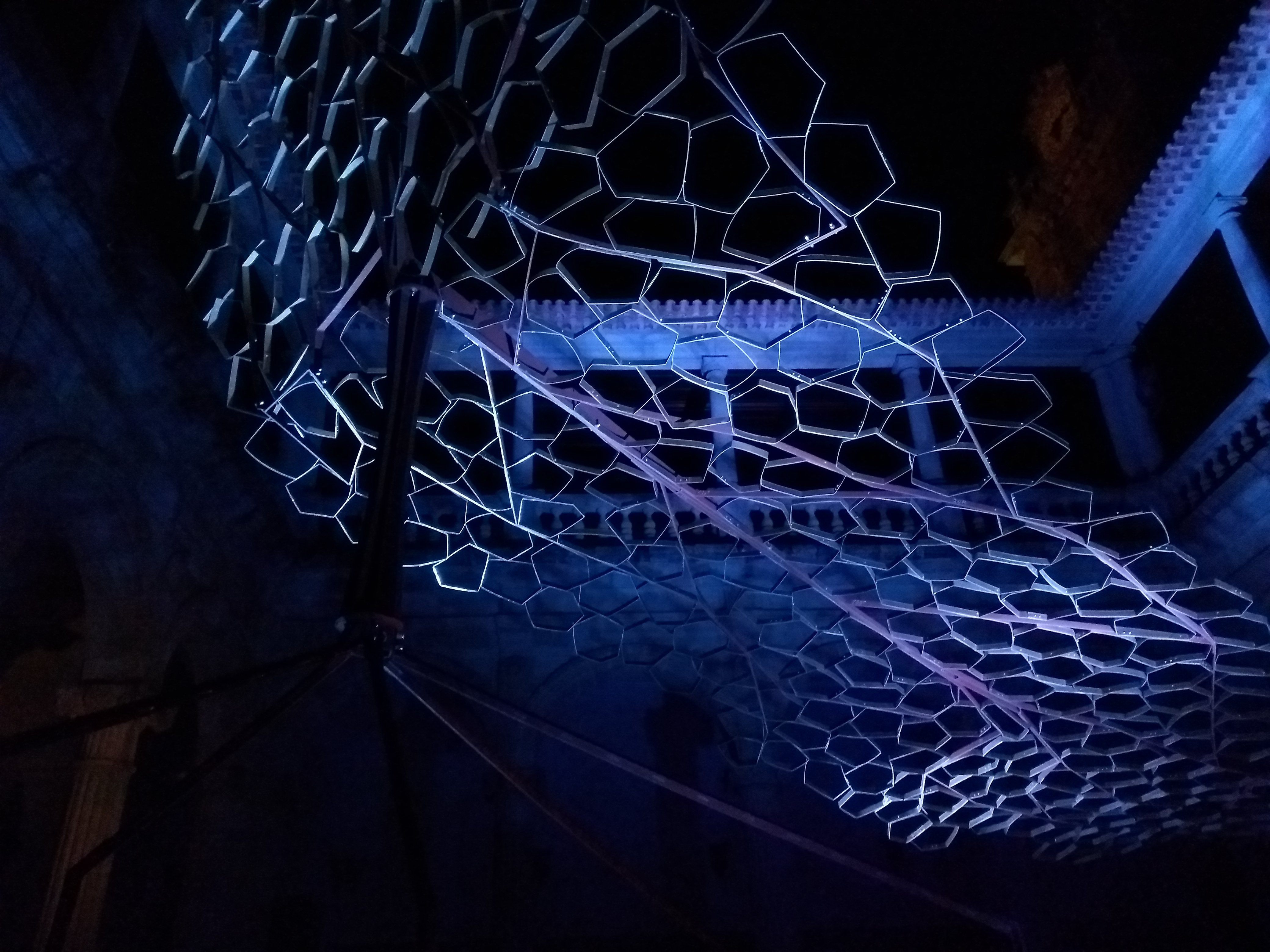 I cannot remember if during his performance i played pieces from Monoceros, i do recall them to be using the same technique. To better understand this technique, the reading of the De Motu text is advised. In summary, Parker uses the saxophone to produce lower tones and then control the overtones produced. These multitude of sounds coming from the soprano saxophone, in such a beautiful place and the natural reverb of the space, completely grabbed my attention.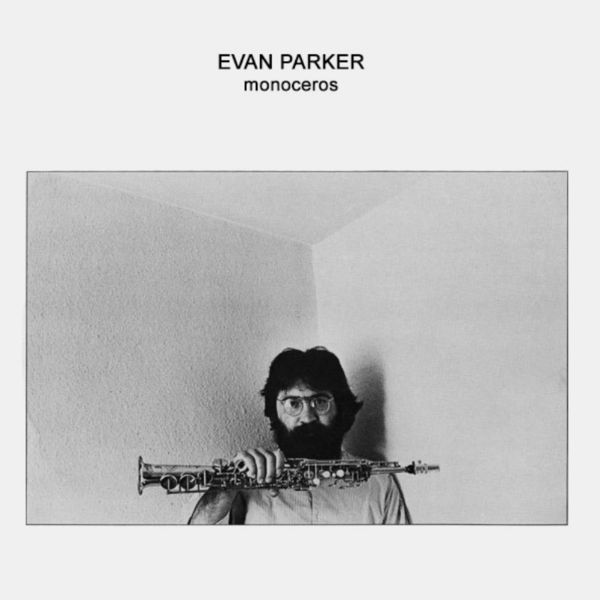 A few days later i reserved some time to listen to his solo work, and Monoceros was the most similar sounding release i heard. This recording was immediately added to my list of releases that require further attention.
Fast forward a few months, i spent a day at working listening to Monoceros in repeat while coding. From that day on, the album became one of my favourite saxophone releases. I only managed to purchase the LP during this summer, on a walkabout the city and a quick visit to Matéria Prima, Portugal's finest record store. All my previous listenings had been on YouTube, and some lower quality mp3 files.
Listening to Monoceros with a quality format (either vinyl, CD or FLAC) is truly another experience, we get to clearly hear the tones produced by Parker's technique in their fullest.
Monoceros is comprised of 4 tracks, spanning about 40 minutes, Monoceros 1 through 4, with Monoceros 1 being almost 22 minutes in length. Monoceros 1 is a tour de force of saxophone playing techniques, and the amount of time the sound is uninterrupted, thanks to circular breathing is mind-blowing.
Monoceros 2 through 4 are smaller in length and also not as powerful as the previous. Now there are silences between the phrases, but the saxophone exploration continues in the same register. 3 is populated with more frenetic moments and more calm ones, providing a nice contrast. The fourth provides a small closing track, similar to a summary of the whole album.
I understand that for those not used to this, Monoceros might sound harsh with Parker's bursts and roaming tones, yet it stands as an essential document of inventiveness and exploration of the saxophone.